Description
HOLEX stands for good industrial quality and fair prices. Our HOLEX range comprises over 9,000 products from all groups of the current catalogue: From machining tools to clamping, measuring, grinding, cutting, and hand tools, up to workstations and storage equipment. Under heavy load these products convince by high stability, quality, and reliability.
HOLEX product-highlights
Machining
Process optimisation and cost reduction are the advantages offered by the HOLEX clamping technology products. Whether HSS drills or solid carbide mills for hard machining – HOLEX tools offer impressive benefits in all machining disciplines due to their industrial quality and cost efficiency. The HOLEX solid carbide drill with special point geometry for highest centring accuracy also achieves best drilling results.
For example, the solid carbide high performance drill DIN 6535 HA TiN (item No.: 122340) is especially durable and cost efficient. Its special point geometry ensures high centring accuracy, and its straight major cutting edges with slightly honed edges and a special flute profile produce short chips.
Clamping technology
Classic SK arbors, solid vices and precise peripheral tools represent the power and safety of hte HOLEX clamping devices. Excellent balancing quality and clamping pressures fulfill the high requirements of modern machining centres – with the aim of achieving low unit costs.
For example, the ER collet chuck, item No.: 300520 is powerful and safe.
Balanced at G 6.3/12,000 rpm, suitable for clamping tools with plain shank in collets to DIN 6499 – Form A and B.
.
Metrology
HOLEX measuring tools provide accurate measurement results in a matter of seconds. There is a broad and varied range of Holex manual measurement instruments. For example the HOLEX digital caliper No. 412811: Precuision lapped measuring faces provide exact results that are displayed on a large, sharp-contrast display in a durable metal housing.
Hand tools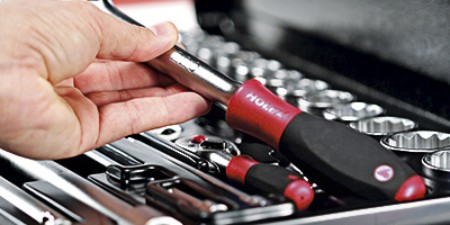 All functional tools have to be ergonomic and durable. The HOLEX range – comprising a variety of spanners and screwdrivers, sockets and pliers – offers good quality at an excellent price.
The robust HOLEX socket set (No.: 630100) of chrome vanadium steel with its useful assortment of sockets and accessories offers many technical advantages.
Grinding and cutting
High rate of material removal with only low wear, extremely free-cutting and perfect surface finishes – and a very good cost/benefit ratio: these are the strengths of the HOLEX cutting and grinding tools. The flap wheel roller, fabric also offers these benefits: flap strips for a gentle cut, and high adaptability on curved surfaces.
Workstations and storage equipment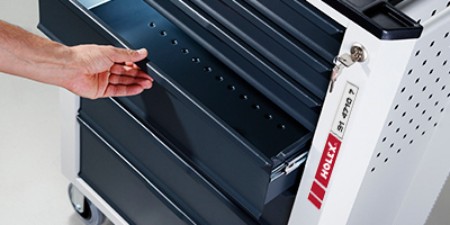 HOLEX offers solid and functional workstation and storage equipment solutions, helping you to achieve comfortable and flexible working conditions and maximum efficiency.
Durable workbenches, mobile cabinets and well-thought out workplace concepts will provide the answers to individual requirements. A classic is the roller cabinet: the sturdy sheet steel construction with full-extension drawers, cylinder lock and roller bearing wheels at a good price.
Personal protective equipment
Best protection at excellent conditions! You will always be on the safe side with our extensive range of personal protective equipment. Whether eye protection, hearing protection, breathing protection, hand protection, workwear or protective clothing – our HOLEX products will impress you by delivering high quality at an attractive price.