Description
Stick type
The original ceramic fibers are aligned from two directions.
High grinding power on the tip.
Efficient polishing performance and strength.

Rod type
Braided structure developed by the unique technology.
Cutting edges are exposed over the entire surface; both the tip and sides has high grinding power.
Can be used with high rotational speed without splitting the tip.

XEBEC Ceramic Stone™ Meister Finish
Optimal for polishing and deburring of molds and dies.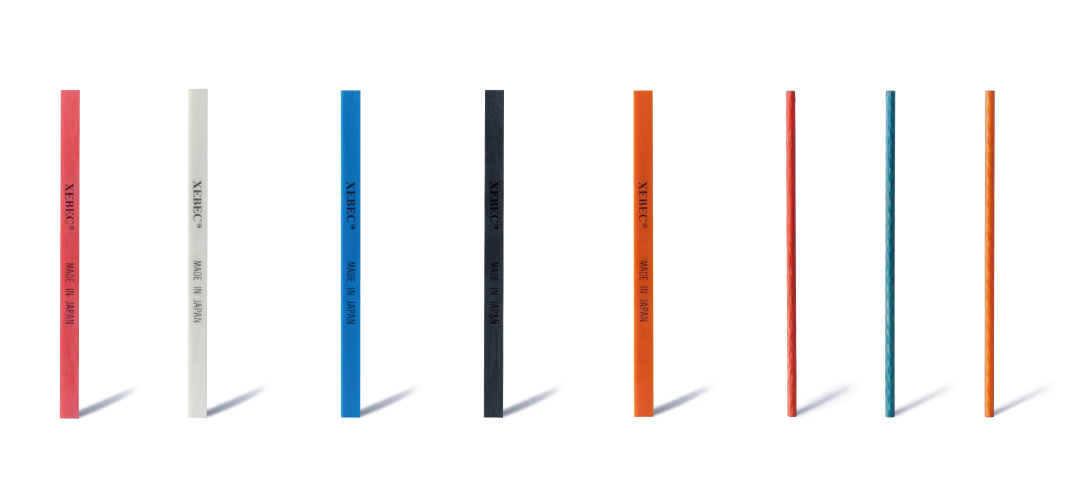 Stick type
Equivalent grit
(Color)
T×W×L (mm)
0.3× 4×100
0.4×4×100
0.5×4×100
0.5×4×150
0.5×6×100
0.5×6×150
0.5×10×100
0.5×10×150
0.8×4×100
0.8×4×150
0.8×6×100
0.8×6×150
0.8×10×100
0.8×10×150
1.0×1×100
1.0×2×100
#3000
(Pink)
–
–
–
–
–
–
–
–
–
–
–
–
–
–
AS-1001M
AS-1002M
#2000
(Cream)
–
–
–
–
–
–
–
–
–
–
–
–
–
–
AC-1001M
AC-1002M
#1500
(Yellow)
–
–
–
–
–
–
–
–
–
–
–
–
–
–
AY-1001M
AY-1002M
#1200
(Red)
AR-0304M
AR-0404M
AR-0504M
AR-0504L
AR-0506M
AR-0506L
AR-0510M
AR-0510L
AR-0804M
AR-0804L
AR-0806M
AR-0806L
AR-0810M
AR-0810L
AR-1001M
AR-1002M
#1000
(White)
AW-0304M
AW-0404M
AW-0504M
AW-0504L
AW-0506M
AW-0506L
AW-0510M
AW-0510L
AW-0804M
AW-0804L
AW-0806M
AW-0806L
AW-0810M
AW-0810L
AW-1001M
AW-1002M
#800
(Blue)
AB-0304M
AB-0404M
AB-0504M
AB-0504L
AB-0506M
AB-0506L
AB-0510M
AB-0510L
AB-0804M
AB-0804L
AB-0806M
AB-0806L
AB-0810M
AB-0810L
AB-1001M
AB-1002M
#600
(Black)
AP-0304M
AP-0404M
AP-0504M
AP-0504L
AP-0506M
AP-0506L
AP-0510M
AP-0510L
AP-0804M
AP-0804L
AP-0806M
AP-0806L
AP-0810M
AP-0810L
AP-1001M
AP-1002M
#400
(Orange)
AO-0304M
AO-0404M
AO-0504M
AO-0504L
AO-0506M
AO-0506L
AO-0510M
AO-0510L
AO-0804M
AO-0804L
AO-0806M
AO-0806L
AO-0810M
AO-0810L
AO-1001M
AO-1002M
#300
(Light Brown)
AL-0304M
AL-0404M
AL-0504M
AL-0504L
AL-0506M
AL-0506L
AL-0510M
AL-0510L
AL-0804M
AL-0804L
AL-0806M
AL-0806L
AL-0810M
AL-0810L
AL-1001M
AL-1002M
#220
(Dark Brown)
AD-0304M
AD-0404M
AD-0504M
AD-0504L
AD-0506M
AD-0506L
AD-0510M
AD-0510L
AD-0804M
AD-0804L
AD-0806M
AD-0806L
AD-0810M
AD-0810L
AD-1001M
AD-1002M
#120
(Violet)
–
–
–
–
–
–
–
–
–
–
–
–
–
–
–
AV-1002M
Equivalent grit
(Color)
T×W×L (mm)
1.0×4×100
1.0×4×150
1.0×6×100
1.0×6×150
1.0×8×100
1.0×8×150
1.0×10×100
1.0×10×150
1.5×1.5×100
1.5×4×100
1.5×4×150
1.5×6×100
1.5×6×150
1.5×10×100
1.5×10×150
2.0×2×100
#1500
(Yellow)
AY-1004M
–
AY-1006M
–
–
–
AY-1010M
–
–
–
–
–
–
–
–
–
#1200
(Red)
AR-1004M
AR-1004L
AR-1006M
AR-1006L
AR-1008M
AR-1008L
AR-1010M
AR-1010L
AR-15015M
AR-1504M
AR-1504L
AR-1506M
AR-1506L
AR-1510M
AR-1510L
AR-2002M
#1000
(White)
AW-1004M
AW-1004L
AW-1006M
AW-1006L
AW-1008M
AW-1008L
AW-1010M
AW-1010L
AW-15015M
AW-1504M
AW-1504L
AW-1506M
AW-1506L
AW-1510M
AW-1510L
AW-2002M
#800
(Blue)
AB-1004M
AB-1004L
AB-1006M
AB-1006L
AB-1008M
AB-1008L
AB-1010M
AB-1010L
AB-15015M
AB-1504M
AB-1504L
AB-1506M
AB-1506L
AB-1510M
AB-1510L
AB-2002M
#600
(Black)
AP-1004M
AP-1004L
AP-1006M
AP-1006L
AP-1008M
AP-1008L
AP-1010M
AP-1010L
AP-15015M
AP-1504M
AP-1504L
AP-1506M
AP-1506L
AP-1510M
AP-1510L
AP-2002M
#400
(Orange)
AO-1004M
AO-1004L
AO-1006M
AO-1006L
AO-1008M
AO-1008L
AO-1010M
AO-1010L
AO-15015M
AO-1504M
AO-1504L
AO-1506M
AO-1506L
AO-1510M
AO-1510L
AO-2002M
#300
(Light Brown)
AL-1004M
AL-1004L
AL-1006M
AL-1006L
AL-1008M
AL-1008L
AL-1010M
AL-1010L
AL-15015M
AL-1504M
AL-1504L
AL-1506M
AL-1506L
AL-1510M
AL-1510L
AL-2002M
#220
(Dark Brown)
AD-1004M
AD-1004L
AD-1006M
AD-1006L
AD-1008M
AD-1008L
AD-1010M
AD-1010L
AD-15015M
AD-1504M
AD-1504L
AD-1506M
AD-1506L
AD-1510M
AD-1510L
AD-2002M
#120
(Violet)
AV-1004M
AV-1004L
AV-1006M
AV-1006L
AV-1008M
AV-1008L
AV-1010M
AV-1010L
–
AV-1504M
AV-1504L
AV-1506M
AV-1506L
AV-1510M
AV-1510L
–
Equivalent grit
(Color)
T×W×L (mm)
2.0×4×100
2.0×4×150
2.0×6×100
2.0×6×150
2.0×10×100
2.0×10×150
3.0×4×100
3.0×4×150
3.0×6×100
3.0×6×150
3.0×10×100
3.0×10×150
#1200
(Red)
AR-2004M
AR-2004L
AR-2006M
AR-2006L
AR-2010M
AR-2010L
AR-3004M
AR-3004L
AR-3006M
AR-3006L
AR-3010M
AR-3010L
#1000
(White)
AW-2004M
AW-2004L
AW-2006M
AW-2006L
AW-2010M
AW-2010L
AW-3004M
AW-3004L
AW-3006M
AW-3006L
AW-3010M
AW-3010L
#800
(Blue)
AB-2004M
AB-2004L
AB-2006M
AB-2006L
AB-2010M
AB-2010L
AB-3004M
AB-3004L
AB-3006M
AB-3006L
AB-3010M
AB-3010L
#600
(Black)
AP-2004M
AP-2004L
AP-2006M
AP-2006L
AP-2010M
AP-2010L
AP-3004M
AP-3004L
AP-3006M
AP-3006L
AP-3010M
AP-3010L
#400
(Orange)
AO-2004M
AO-2004L
AO-2006M
AO-2006L
AO-2010M
AO-2010L
AO-3004M
AO-3004L
AO-3006M
AO-3006L
AO-3010M
AO-3010L
#300
(Light Brown)
AL-2004M
AL-2004L
AL-2006M
AL-2006L
AL-2010M
AL-2010L
AL-3004M
AL-3004L
AL-3006M
AL-3006L
AL-3010M
AL-3010L
#220
(Dark Brown)
AD-2004M
AD-2004L
AD-2006M
AD-2006L
AD-2010M
AD-2010L
AD-3004M
AD-3004L
AD-3006M
AD-3006L
AD-3010M
AD-3010L
#120
(Violet)
AV-2004M
AV-2004L
AV-2006M
AV-2006L
AV-2010M
AV-2010L
AV-3004M
AV-3004L
AV-3006M
AV-3006L
AV-3010M
AV-3010L
Rod type
Equivalent grit
(Color)
D×L (mm)
φ1×50
φ1×100
φ1.5×50
φ1.5×100
φ2×50
φ2×100
φ2.34×50
φ2.34×100
φ3×50
φ3×100
φ3×150
φ6×50
φ6×100
#1200
(Red)
PR-10S
PR-10M
PR-15S
PR-15M
PR-20S
PR-20M
PR-234S
PR-234M
PR-30S
PR-30M
PR-30L
–
–
#1000
(White)
PW-10S
PW-10M
PW-15S
PW-15M
PW-20S
PW-20M
PW-234S
PW-234M
PW-30S
PW-30M
PW-30L
–
–
#800
(Blue)
PB-10S
PB-10M
PB-15S
PB-15M
PB-20S
PB-20M
PB-234S
PB-234M
PB-30S
PB-30M
PB-30L
–
–
#600
(Black)
PP-10S
PP-10M
PP-15S
PP-15M
PP-20S
PP-20M
PP-234S
PP-234M
PP-30S
PP-30M
PP-30L
–
–
#400
(Orange)
PO-10S
PO-10M
PO-15S
PO-15M
PO-20S
PO-20M
PO-234S
PO-234M
PO-30S
PO-30M
PO-30L
–
–
#300
(Light Brown)
PL-10S
PL-10M
PL-15S
PL-15M
PL-20S
PL-20M
PL-234S
PL-234M
PL-30S
PL-30M
PL-30L
–
–
#220
(Gray)
PM-10S
PM-10M
PM-15S
PM-15M
PM-20S
PM-20M
PM-234S
PM-234M
PM-30S
PM-30M
PM-30L
PM-60S
PM-60M