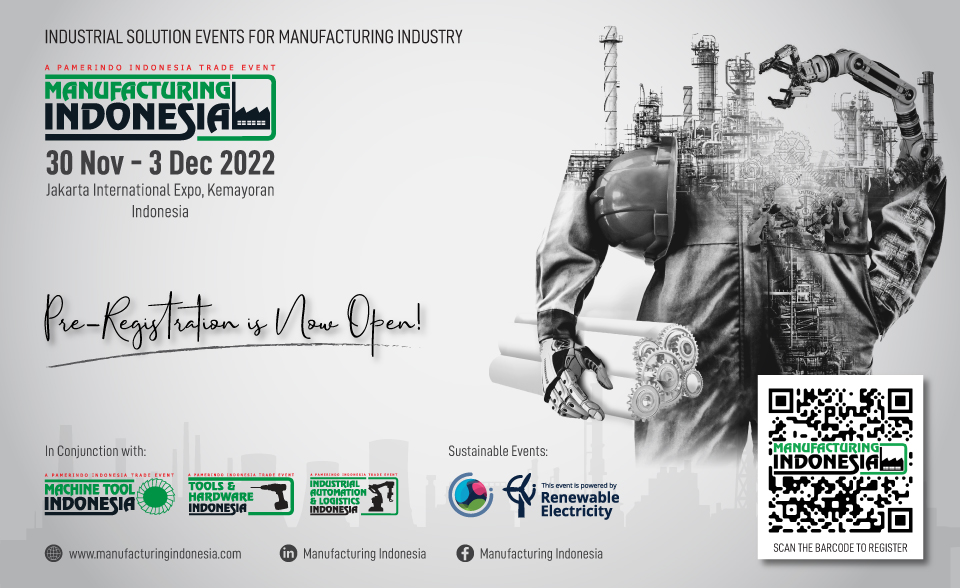 Manufacturing Indonesia Series Exhibitions. EVENT AN INDUSTRIAL SOLUTION FOR THE MANUFACTURING INFINDRY. PLAN B IS HYBRID MANUFACTURING SMART EVIDENCES. A HIGHLIGHT FROM THE 2022 EDITION. WHAT OUR EXHIBITORS & VISITORS SAY. OFFICIAL MOVIE 2022 EDITION. HEALTH & SAFETY STANDARD. SUSTAINABILITY IS US.
International Manufacturing, Machinery, Equipment, Materials and Services Exhibition 31nd.
Machines, equipment, materials, and services for manufacturing.
More than 840 companies from 33 countries participated in the 2022 exhibition edition. The exhibitions offer a range of activities onsite: business matchmaking, Tech Talk Sessions, Professional Certified Program and live demo & product presentations. They have attracted more than 25,000 trade visitors in less than 4 days.
The exhibitions are co-located alongside three other industry events, including Machine Tool Indonesia and Tools & Hardware Indonesia. They have grown to be the most trusted and largest manufacturing trade fair for machinery, supplies and equipment in Indonesia – all under the same roof!
Connect with global networks using digital products to unlock your digital potential.
This seamless opportunity gives brands more exposure before and during the show. Exhibitors can maximize exposure for their services and products by joining our digital product selection. We have held all of our digital activities successfully over the past two years to meet the industry's needs, from virtual showroom, business meetings to webinars to Virtual Expo. The 360-degree online marketing solution ensures that no product or service will be overlooked by the target audience. Register for the 2022 edition to connect with key buyers and decision-makers in the Indonesian manufacturing industry.
About The Show
Manufacturing Indonesia is Indonesia's largest international manufacturing exhibition providing a professional business platform for Indonesia's manufacturing industry. Incorporating Machine Tool Indonesia, Tools & Hardware Indonesia and Industrial Automation & Logistics Indonesia, the event provides the most cost-effective way to increase your business in South East Asia's biggest manufacturing market.
Manufacturing Indonesia is well known and respected among industry professionals. The show attracts industry leaders and key players in the global manufacturing industry who want to showcase their latest products and services – all under one roof!
MACHINE TOOLS
Turning machines (lathes)
Drilling machines
Boring machines
Milling machines
Machining centers
Grinding machines
Gear cutting and finishing machines
Planing, shaping, slotting and broaching Machines
Sawing and cutting-off machines
Screwing and threading machines
Honing, lapping and polishing machines
Deburring machines
Blanking, nibbling and punching machines
Sheet metal cutting & forming machines
Presses
Bar, section and tube working machines
Wire forming and processing machines
Machines for the production of bolts, nuts, screws and rivets
Electroerosive and abrasive Machines
Machines for marking and engraving
Machine tools for educational purposes
Micromachining
PARTS, COMPONENTS, ACCESSORIES
Accessories
Mechanical components
Hydraulic and pneumatic components
Electrical and electronic equipment for machine tools
Control and drive systems
Lubrication and cooling
Materials
Disposal systems
Safety and environment
Workshop equipment
METROLOGY AND QUALITY ASSURANCE
Measuring instruments and machines
Testing
Image processing
Quality assurance, software
DRIVES AND CONTROLS
Motors
Drives
Machine safety
Sensors
Programmable controllers
Inverters
Motion controls
Repairs & maintenance
Gear, brakes, clutches and couplings
Displays & meters
Test & Measurement
MANUFACTURING AND PROCESS AUTOMATION
Workpiece and tool handling
Automation for storage and transportation
Assembly and handling
Industrial robots
Software for product development
Software for machines
Software for manufacturing
Computers and peripherals
PRECISION TOOLS
Cutting tools
Forming tools
Abrasive tools and products
Hand held tools
Tooling devices
Tooling systems
Tool presetters and tool balancing
Dies and moulds
AIR POWER
Accumulators, Actuators, Air Delivery Systems and Air Motors
Compressors, Cooler Tools and Cylinders
Vacuum and Generators
Displays & Meters
Filters, Fittings, Heat Exchangers and Hoses
Instruments, Lubricators, Manifolds and Mobile Compressors
Pumps, Regulators, Sensors, Software and Valves
FLUID POWER AND SYSTEMS
Welding, cutting and gas cutting machines
Industrial ovens, heat treatment systems
Machines and systems for use in Surface Technology
Rapid prototyping
FACTORY AND ASSET MANAGEMENT
Asset Management systems, bearings, lubrication
CMMS, condition monitoring, outsourcing/contract maintenance.
Energy management, handling & storage, health & safety
Facilities management, generators, boilers and burners, industrial cooling and Industrial rental equipment
Security and fire prevention, sensors, probes and tools, leak detection equipment
Training and thermal imaging
Water/waste management