Description
Hyprez® Lapping & Polishing
HYPREZ® Lapping & Polishing Machines and Accessories
Engis is a global leader in the design and manufacture of complete lapping and polishing systems that offer the highest quality finished components, processed in the quickest cycle times, while keeping your manufacturing costs at a minimum. But the machine is just one part of the puzzle….what really sets us apart from the competition is our unique ability to provide Process Development and Customer Support that is second to none.
Machines:
FastLap Lapping & Polishing Machines
Lapping Plate Facing/Grooving Device
HVG Precision Grinding Machines
Accessories:
Slurry Mixing/Dispensing Systems
Hyprez Lapping Plates
Hyprez Conditioning & Work Rings
Part Carriers and Mounting Accessories
FACING & GROOVING
Maintaining a flat and evenly textured composite lap plate is critical for stable lapping performance. Traditionally this is achieved with a diamond plated conditioning ring, requiring a high level of operator experience and skill. To improve this process, Engis has engineered a solution that helps take the 'art' out of lapping, the Facing/Grooving Device.
Using a diamond tool bit, this innovative device removes the top layer of the composite plate, making it flat to within microns. A groove pattern can be machined in a second pass. It is even possible to create a tapered plate to produce slightly convex/concave surfaces. When the device is not in use, it retracts out of the work zone.
Plate Facing Advantages:
Consistent plate shape (flat or tapered)
Long lasting, consistent plate texture
Increased stock removal rate
Improved lapping performance stability
Improved ergonomics, no need to lift heavy rings
Fastlap Machines
Hyprez® FastLap Lapping & Polishing Machines
36FL115VP FastLap Lapping & Polishing MachineThe FastLap Series of Lapping & Polishing Machines are built for versatility and speed. These machines can be customized from a basic tabletop model to a large floor-standing model with advanced process controls.
Built with heavy duty spindle bearings, they are designed to withstand the high loads necessary for diamond processing of hard materials.
FastLap Standard Machine Models
(additional sizes available)
Standard Models
FL15
FL20
FL24
FL28
FL36
FL42
FL48
Lap Plate Diameter
15″
381 mm
20″
508 mm
24″
610 mm
28″
711 mm
36″
914 mm
42″
1067 mm
48″
1219 mm
Maximum part Diameter
(inside work ring)
5-7/16″
138 mm
7-7/16″
188 mm
9-11/16″
246 mm
11-15/16″
303 mm
14-7/16″
366 mm
16-15/16″
430 mm
16-15/16″
430 mm
Work Stations/Rings
3
3
3
3
3 or 4
3 or 4
3 or 4
Maximum Plate Speed
90 rpm
90 rpm
90 rpm
90 rpm
70 rpm
70 rpm
50 rpm
Maximum Pneumatic pressure
(per spindle, all spindles engaged)
100 lbs
45 kg
200 lbs
90 kg
300 lbs
136 kg
500 lbs
227 kg
1100 lbs
499 kg
1100 lbs
499 kg
1600 lbs
725 kg
Built-In Machine Options
Basic
Advanced
Controls
Digital
Touch-Screen PLC
Pressure
Hand Weight
Pneumatic
Work Ring Rotation
Yoke/Roller
Power Assist or Direct Drive
Lap Plate Control
Plated Conditioning Ring
Facing/Grooving Device
Slurry Control
External (EMC-3)
Integrated with PLC
Automated Thickness Control
–
Integrated with PLC
Materials
Cast iron/aluminum
SUS table, trough, pressure plates
Low Pressure Option
–
Counterbalance
Temperature Control
–
Water cooled drive wheel
Temperature Monitoring
–
3 location sensor over plate
Torque Monitoring/Control
–
With optional cut-off
Environmental Control
–
Workspace enclosure
Recipe Storage
–
Up to 100
Data Capture/Barcode Scanning
–
User specified
High Precision Vertical Wafer Grinding Machines
The HVG Series Vertical Wafer Grinding Machine is designed to grind advanced materials to a high degree of precision in flatness and surface quality, often reducing or eliminating the need for lapping. The compact design with advanced controls and process monitoring makes this an ideal machine for use in research & development or for low volume production of advanced components.
Hyprez® Slurries
Hyprez® Lapping and Polishing Slurries
As part of our complete solution, Engis manufactures a complete line of precision graded diamond slurries or aluminum oxide powder with lapping oil for achieving flatness control and excellent surface finish on a wide variety of materials.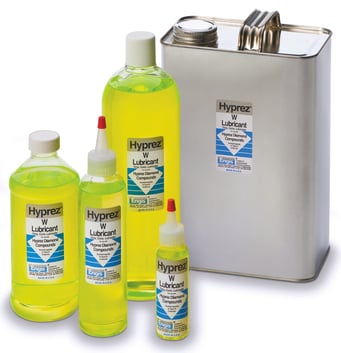 Why diamond?
Reduce lapping times from hours to minutes
Reduce slurry usage and waste from gallons to pints
Achieve a reflective finish in a single step, eliminate hand polishing
Cleaner process, cleaner parts
Process a wide variety of materials
Why Engis?
Engis is a micronizer – we purify, precision grade, disperse, and custom formulate our slurries, where others are simply repackaging. We are unequaled in our ability to precisely characterize and control particle size distributions (PSD).
Applications expertise – our engineers can provide the full process recommendation for your part/material – not only the best slurry formulation but also the polishing machine, lap plate or pad, accessories, and process settings.
Engis Diamond Slurries
Engis provides a broad range of diamond slurry formulations; our standard formulations are shown in the table below. Custom formulations are available. Simply choose your formulation and specify:
Diamond type (polycrystalline, monocrystalline)
Diamond size (available from 50 nm to 60 micron)
Package size (pints, quarts, gallons)
Our experts are happy to guide your choice of slurry based on your application, material, and requirements.
| Slurry Formulations | Water Soluble | Oil Based | Emulsion | Low Viscosity (<10 cP) | Med Viscosity (10 – 100 cP) | High Viscosity (permanent Suspension) | Only Non-Haz Components |
| --- | --- | --- | --- | --- | --- | --- | --- |
| S4243 | ✔ | | | | | ✔ | |
| S7459-2 | ✔ | | | | ✔ | | |
| S4889 | ✔ | | | ✔ | | | |
| ECOLAP 2000 | ✔ | | | ✔ | | | ✔ |
| S1313-T4 | | ✔ | | ✔ | | | |
| ECOLAP 1001 | | ✔ | | | ✔ | | ✔ |
| S841 | | | ✔ | | ✔ | | |
Aluminum Oxide powder with Lapping Oil
Low cost and recyclable
Used for achieving matte finish
Powder sizes from 5 – 50 micron
Hyprez Lap Plates
Engis manufactures a complete line of lap plates, including metal composite, solid metal, and fixed abrasive options. Our applications experts can recommend the best lap plate for your application.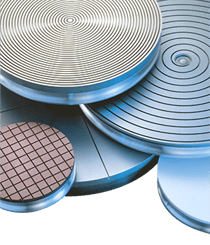 An efficient lapping operation requires the selection of a proper lap plate. This selection is guided by the process objective (stock removal, fine finish), the material being lapped, and the diamond size/type used in the lapping slurry.
A composite lap plate is comprised of metal or ceramic particles in a resin matrix, allowing for efficient charging of diamond abrasive particles into the plate. This charged composite plate can significantly reduce process times and achieve a finer surface finish, often in a single step. A composite plate is also well suited for a facing device, taking the guess work out of flatness and texture control.
Hyprez® X08
Composite Iron plate with most aggressive stock removal; good alternative to cast iron
Hyprez®C250
Composite copper plate; our most universal plate, often used for single step operations
Hyprez®X100
Composite aluminum plate; good substitute for C250 when copper contamination is a concern
Hyprez® TX-10A
Composite tin plate; very fine finish, minimizes or replaces pad polishing to maintain flatness
Hyprez® HY Ceramic
Composite ceramic plate; used when metal free processing is required
Hyprez® Composite plate configurations
Sizes from 1″ to 100″ OD
Available mounted to a solid metal base, or unmounted with mounting kit
Wide range of grooving options: concentric, radial, spiral, square, custom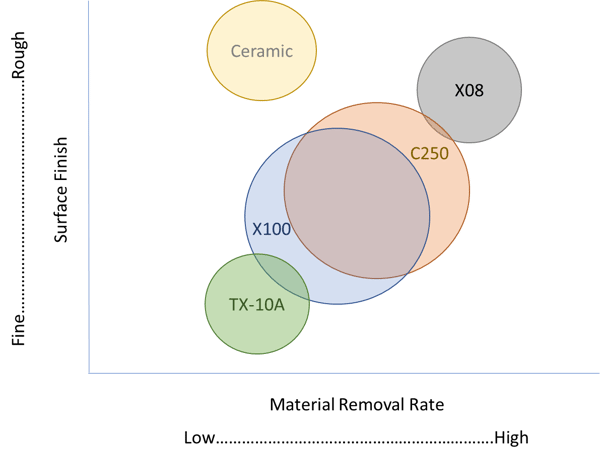 Hyprez Diamond Compound
Engis originally developed its precision diamond compound to improve gyroscopes for navigation systems in 1940s aircraft.  Now, with more than 80 years of experience, Engis is a world leader in the manufacture of high-quality diamond compound, offering the widest range of products in the industry. 
Hyprez Diamond Compound is available in pastes, gels, and pourable/pumpable options, depending on user needs. All options are available in diamond sizes ranging from 0.1 – 60 microns, with precision graded mono- or polycrystalline diamond.  An Engis application engineer can assist you in selecting the best product for your application.
Diamond Pastes
Diamond pastes are thick formulations, dispensed from a syringe or jar and manually spread across the part.  Pastes are the most commonly used form of diamond compound for hand polishing, and they are used with a companion lubricant.
Compound Type
L
W
FiveStar (FS)
Solubility
Oil
Water
Universal (Oil/Water)
Companion Lubricant
OS-IV
W Lubricant
OS-IV or W
Compound Package Options
Syringe(5,18,50,100 gram), Hyplicator®(10 gram) or Jar(100, 5000 gram)
Diamond Gels
Diamond gels are thinner than pastes, but still thick enough to be applied with a syringe.  The thinner consistency results in slower drying, reducing scratching on larger parts while maintaining good adhesion to lapping tools and parts.  Great for automated or hand polishing.
Compound Type
L-GEL
W-GEL
Solubility
Oil
Water
Companion Lubricant
OS-IV
W Lubricant
Compound Package Options
Syringe(18,100 gram)
Flowable Compounds
Flowable compounds can be poured or pumped for applications using automated polishing.  The thick formulation will flow around the part while maintaining good adhesion.      
Compound Type
L-FLO
W-FLO
Solubility
Oil
Water
Companion Lubricant
OS-IV
W Lubricant
Compound Package Options
Pint bottle(400gram)
*Engis can customize other packaging types and unit sizes to meet your production requirements
Lapping & Polishing Industries
Our systems are suitable for processing a vast range of materials: metals, ceramics, glass, semiconductor substrates, plastics and other advanced materials. We have developed solutions for many industries, improving quality, efficiency, and cost. If you don't see your industry, please contact us.
Semiconductor Surface Technology with our Hyprez Polishing Pads
The production of an exacting surface finish on silicon or other semiconductor crystals has become more demanding and it has become highly critical to meet the requirements of today's semiconductor industry.  At Hyprez we strive to meet the ever-changing needs of the industry.  We offer various polishing pad types depending on your final polishing requirements and characteristics.  We offer surface roughness, removal rat, and edge rounding options. See our selection:
PM-700 -Microcell pad made from buffed polyurethane with microscopic voids, laminated to non-woven.
PM-710 – Microcell pad made from buffed polyurethane with microscopic voids, laminated to non-woven.
HY NAP700- Nap/flock pad made with long viscose fibers.
HY NAP 730 – Nap/flock pad made with long viscose fibers on the woven substrate.
HY NAP 780 – Nap/flock pad made with thin, short viscose fibers on the woven substrate.
HY NAP 800 – Nap/flock pad made with short viscose fibers on the woven substrate.
HLM 4F – Woven, low cost for metal polishing.
HS-4/SU –  Rigid non-woven impregnated with polyurethane.
ATP 600-Thick non-woven made from polyester/polypropylene fibers with a buffed surface.
Helical ID & OD Lapping Tools
Internal Laps,
Arbors, &
Expanders
Expanding Cast Iron Laps for Precise Bore Geometry & Micro Finishes
External Laps &
Lap Holders
Cast Iron External Laps & Lap Holders
Abrasives
High Quality Lapping Compounds for Superior Finishes.
Hand Lapping Plates
Precision Ground Cast Iron for Achieving Flatness
Special Application Lapping
Tools
Blind Bores, Step and Tandem Laps, & Special Sizes.
Tool Fundamentals
Helpful Information About Using Our Tools
Hyprez Lapping & Polishing Complete
Hyprez® Lapping & Polishing
Facing & Grooving
Fastlap Machines
HVG Grinder Series
Hyprez® Slurries
Hyprez® Lapping Plates
Hyprez® Diamond Compound
Lapping & Polishing Industries
Hyprez Polishing Pads
Helical ID & OD Lapping Tools