Description
FlyMarker mini 65/30
The bestseller among the battery operated hand-held marking systems! Ready for use everywhere and at any time with an unbeatable price/performance ratio.
Product details
Our bestseller among the battery operated hand-held marking systems. With the FlyMarker mini 65/30 hand injuries caused by classic hand stamps can be eliminated. It has never been easier to create markings on almost all materials from plastic up to hardened steel (63HRC). The compact battery operated hand marker convinces with its functionality and compact design as well as its unique price-performance ratio.
LIGHT
The weight of the battery-powered needle embossing machine is only 2.4 kg (incl. battery)
Ergonomic device design for effortless 1- or 2-hand operation
Housing made of unbreakable and glass fiber reinforced plastic
MOBILE
ALL-IN-ONE system with integrated control unit and keyboard with separate numeric keypad
Without annoying power and compressed air cables, it can be used directly on site for heavy, unmovable and voluminous workpieces
Self-sufficient working with 2 powerful 18V lithium-ion batteries (standard scope of delivery)
INNOVATIVE
Adjustable marking strengths for visible markings even after subsequent treatment
Protected interfaces on the device for data transmission and optional accessories
High marking quality thanks to stable and durable mechanics guarantees permanent and forgery-proof marking
High-resolution LC display with user-friendly and intuitive operating software
Marking areas: 65 x 30 mm
FlyMarker mini 85/45 plus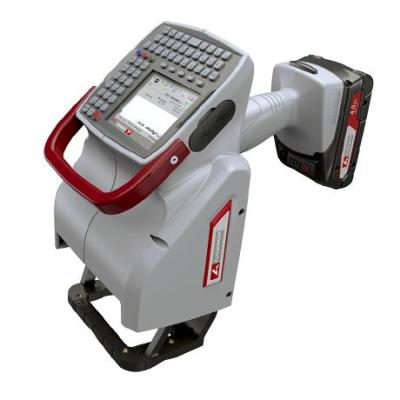 The perfect partner for tough applications! Large marking field and a lot of power for more impact – this is what this compact and mobile hand-held marker combines.
Product details
The battery-powered hand-held marking system FlyMarker mini 85/45 plus convinces with its versatility, high functionality, robustness and additional power. The stable guide system, its low weight of only 3.1 kg (incl. battery) or the optional marking field extension to 120 x 45 mm makes the FlyMarker mini 85/45 plus the perfect partner for almost any marking task.
DURABLE
Markings on almost all materials from plastic to hardened steel (63HRC)
Individual company logos, test marks or Data Matrix Codes can be marked optionally
Thanks to integrated prism fences, marking of round parts is simple and easy
STRONG
Extra-strong magnet for deep markings (optional, easily exchangeable)
High-quality guide system for maximum stability
Double linear guides in X and Y direction for warp-free, multi-line marking without loss of quality
High rigidity of the mechanics due to robust basic carrier with integrated positioning angle
FLEXIBLE
18V lithium-ion battery technology
100% mobile marking of heavy, immobile and voluminous workpieces directly on site
Removable handle for better access to bulky components
Modular system: Numerous accessories and variants for many applications
Marking areas: 85 x 45 mm120 x 45 mm
MV5 M50/25
Ideal choice when high depth and at the same time mobility is required. Pneumatic needle marking head for marking heavy and unmovable workpieces directly on site.
Product details
Due to its mobility, the pneumatically driven hand-held marking device MV5 M50/25 is perfectly suited for flexible marking of heavy, immobile and voluminous workpieces directly on site. The marking head is solidly guided in any position and in connection with the high-performance stepping motors they can be used in any position. The marking is produced by a solid carbide marking pin.
MOBILE
High functionality through combination with various control systems
Space-saving and very handy hand-held marking system
Compact construction and ergonomic design
High functionality through modular MARKATOR design system
FAST
High rigidity due to high-quality linear guides (double guided)
Fast oscillating marking pin for precise line markings
High repeatability
Shortest marking times due to latest control technologies
STRONG
Extremely precise and distortion-free marking results
Optimum power transmission on the workpiece to be marked
High marking strength through pneumatic tool drive
Optional valve kit available for maximum marking depth
Marking areas (x/y): 50 x 25 mm / 50 x 45 mm / 80 x 25 mm / 80 x 45 mm / 120 x 25 mm / 120 x 45 mm
Weight: from 3,2kg
Available character heights: From 1,0 mm, continuously adjustable in 1/10-steps
Available characters: Capital and small letters A to Z, figures 0 to 9, various punctuation marks
Fonts: Standard, similar to DIN 1451 in a continous line or in single dot characters, size 5 x 7 and 9 x 13
Resolution of the stepping motors: 0,05 mm for a very high marking quality
The different marking methods at a glance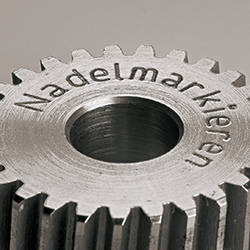 Dot peen marking
A solid carbide pin oscillates by pneumatic and electronic means. It is moved by two carriages in the x and y direction and strikes the material by an up and down movement. Depending on the impact frequency the marking either becomes a continuous or a single dotted line – perfect for characters, logos or two-dimensional codes, e.g. Data Matrix Code.
The force produced by the single dot marks is negligible. Due to this it is possible mark pressure sensitive, thin-walled, coated, hollow and arched work pieces. The system is suitable for almost all materials – also hardened steel!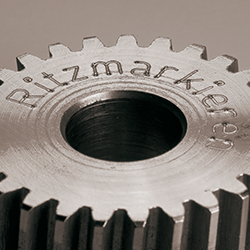 Scribe marking
Compared to dot peen marking the scribe marking pin does not strike into the material with an up and down movement. It is pressed into the material. In this position the carbide or diamond scribe marking pin is moved by two carriages in x and y direction. The MARKATOR scribe marking system offers optimal adaptability and high quality at a maximum marking speed.
The system is suitable for almost all materials – from hardened steel to pressuresensitive finished products!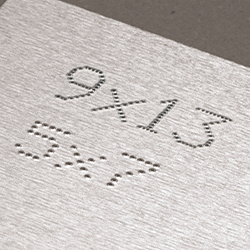 Single dot marking
As an alternative variation of the dot peen marking, the marking of single dot characters works also through a carbide marking pin which works pneumatically or electrically. Single dots are achieved by the defined up and down movement of the marking pin. Through to the exact definition of the dots, the matrix fonts are produced in the uni-form size of 5 x 7 or 9 x 13. Other fonts are additionally available.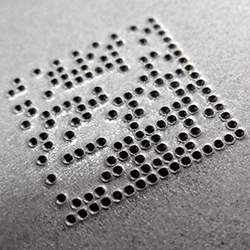 Data Matrix Codes
The Data Matrix code makes it possible to display a lot of information in tight marking areas, on difficult interfaces and in fast production lines. A 2D-Code is considered as "secure" data transmission and can be reconstructed by Reed-Solomon error correction even if up to 25% of the code has been destroyed.
Benefits of the Data Matrix Code:
Memory capacity from 1 to 2300 characters
Readable with low contrast
Reduction and increasing of the data content without changing the physical size of the code
Readable with every angle of vision
Registration of fast moving objects, as no reading is required
No conversion tables required, information is included directly
The Data Matrix code is encryptable according to the D.E.S (Data Encryption Standard) and the R.S.A. rules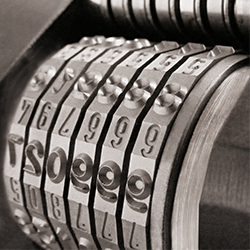 Conventional marking
The conventional marking systems of MARKATOR are particularly suitable for unchanged texts, continuous numbering, short cycle times and small quantities. According to the particular specifications, the work pieces can be marked extremely deep and durable.
MARKATOR offers different solutions for the conventional marking of work pieces – from hand marking punches with your own company logo or simple standard machines through to individual, fully automatic special-purpose machines.
Our marking systems are exclusively made out of top-class materials and withstand extreme use. Highest life-times at stamping or embossing materials up to a strength of approx. 120 daN are guaranteed.