Description
9000 SERIES EXTRUDER
The Insta-Pro International 9000 Series Extruders is best suited for feed ingredients or extruded full-fat soy when equipped with a preconditioner (as shown).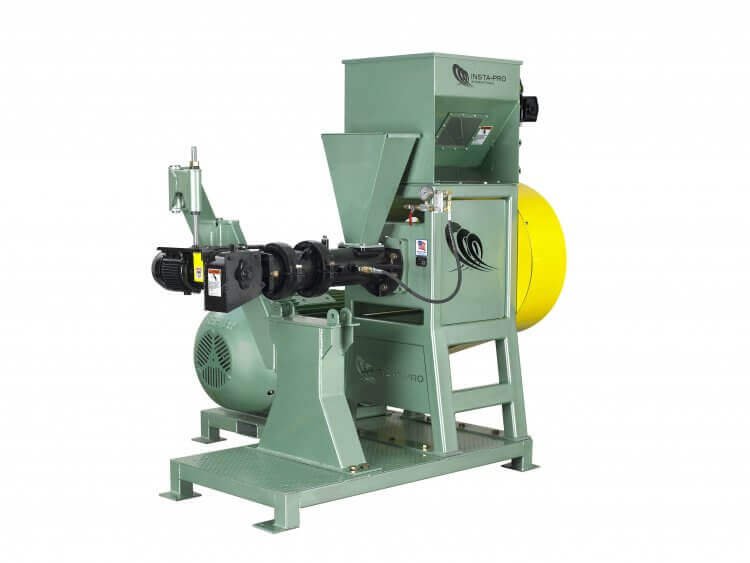 FEATURES:
Wall-mount control panel with digital readout and AC frequency drive
Volumetric feeder (over the top or sidefed available)
Sturdy, compact design
Sleeved barrel
CAPACITY: 7,500-8,000 lbs./hr. (3,400 – 3,636 kg./hr.)
OIL PRESS MODEL 2000 PRESS
The 2000 press is the most popular press in our line-up. It offers the same convenient features of the model 1000 with advanced features.
FEATURES:
Low maintenance, long life design
Oil transfer pump
Krammer unit
Stand and oil tank
CAPACITY: 1,500 – 2,000 lbs./hr. (680-909 kg./hr)
COUNTERFLOW COOLER
CAPACITY: Maximum 14,960 lbs./hr. (6,786 kg./hr.) 100º F ambient maximum
MODEL 950 COOLER
CAPACITY: Maximum 6,000 lbs./hr. (2,728 kg./hr.) 100º F ambient maximum
OIL CLARIFICATION SYSTEM
The Oil Clarification System is a result of collaboration between Insta-Pro International® and Alfa Laval to bring scalable crude vegetable oil solutions to the oilseed processing industry.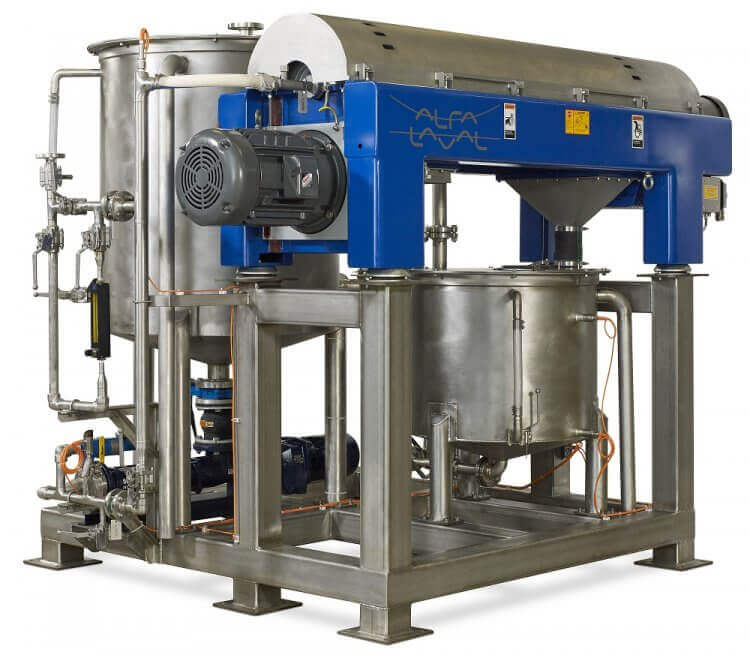 FEATURES:
• Stainless steel piping, tanks, frame
• PLC-based control panel with 10 inch touch screen
• Compact design
• Necessary items needed to clarify oil such as pipes, pumps, tanks and control panel
• Suitable for processing a variety of oils
SCREW PRESS
DIGESTER
SLUDGE CENTRIFUGE
KING CRACKER
HIGH SHEAR EXTRUDER PARTS
Insta-Pro International Genuine parts are built to standards not found from other vendors. We take the extra steps to precision grind all mating surfaces and the internal diameter of rotating parts allowing for a flush and balanced fit reducing down time and extending part life.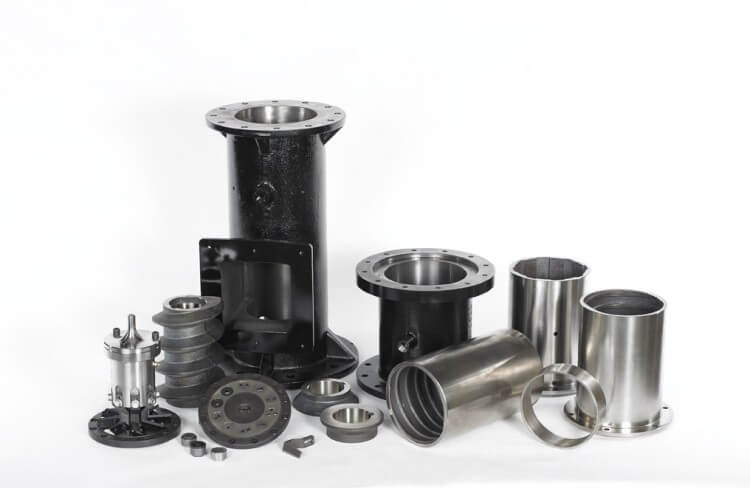 OIL PRESS PARTS
Insta-Pro International Genuine Press parts are precision built allowing for long life and maximum extraction of oils from various oilseeds when coupled with Insta-Pro Extruders.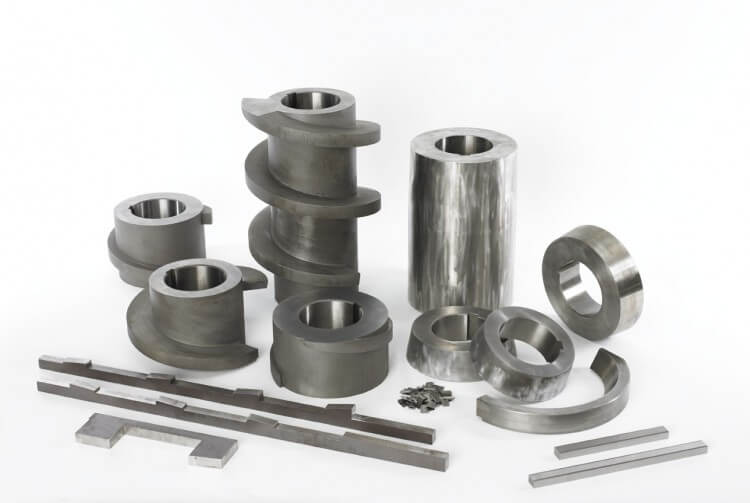 MEDIUM SHEAR EXTRUDER PARTS
Unique features of the Medium Shear extruder parts are the sleeved chambers available in either fluted or spiral design. Common to the High Shear parts, the Genuine Insta-Pro International Medium Shear extruder parts are built to standards not found from other vendors.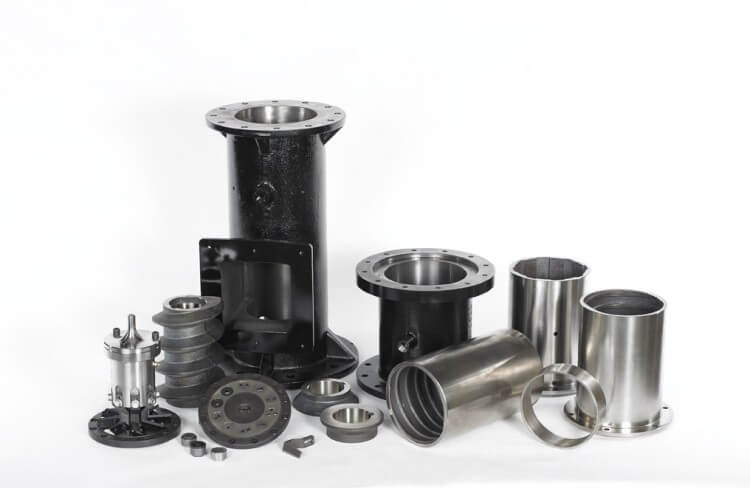 CUTTER HEAD & DIE PARTS
Insta Pro International cutter head and die plates are manufactured to be matched components for production of shaped feeds from pellets of 1.5mm and greater. Dies are available in standard shapes and sizes or can be custom designed to meet customer needs.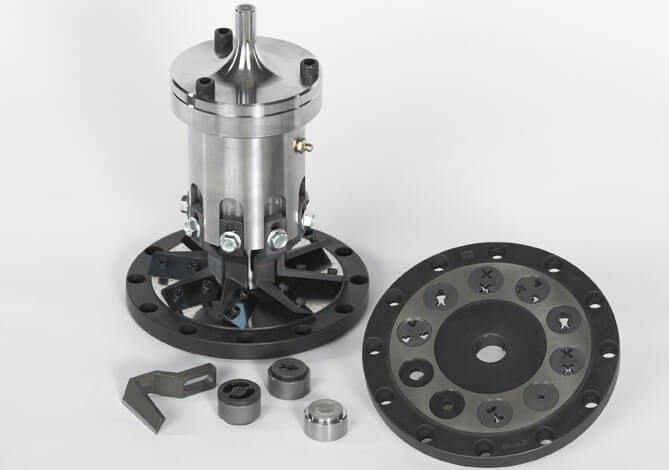 | | | | |
| --- | --- | --- | --- |
| | | | |
| Twin Screw Press Various Press Cages | Twin Screw Press Various Worm Screw | Twin Screw Press Main Shafts | Twin Screw Press Cone Guide & Lengthening Shafts |
| | | | |
| Bogiewheels | Sprockets | Cone Cylinder | Fire Bar and Boiler Ash Cone |
| | | | |
| Couplings | Hydrocyclone Dome | Stirring Arms | Hydrocyclone Vortex |
| | | | |
| Ripple Mill Spareparts | Feeder Plate | Digester Vee Blocks | Boiler Ash Cone |
| | | | |
| Cast Iron Hanger Bearings | Boiler Door | Digester Expeller Arms | Spur Gear |
High Mn.Steel Swing Jaw
High Mn.Steel Mantle
High Mn.Steel Mantle
Idler Roller
Wire Rope
Track Shoe
Bollard
S.S. Casing
Pre-Breaker Housing
High Cr.Steel Wall Liner
Kelly Box
Impeller
Housing
Elbow
S.S. Damper
WORM SCREW
AXLE BLOCK
STEEL PLATE
We supplies different types of steel plates, in various thicknesses. We provide full size plates, cut to size plates, cutting edges, etc. The sizes of all kind of steel plates vary because they are based on our customers' specifications and needs.
• Mild Steel Plate
• Alloy Steel Plate
• Abrasive Resistance Plate (AR400)
• Chequered Plate
• Cold Roll Sheet
• G.I. Sheet
SHAFT / ROUND BAR
We offer a wide range of different shafts / round bar, in various diameters. We provide full length or customized length based on customers' needs. Sawing service on the full length bar orders is available upon requests.
• Mild Steel Round Bar
• Black Shaft
• Carbon Steel Shaft / EN9 Shaft (S45C)
• Free Cutting Round & Hexagon Shaft
• Polish Shaft
• Alloy Steel Shaft
PIPES
• Hollow Pipe
• Black Pipe
• Schedule Pipe
• Seamless Pipe
• G.I. Pipe
• API Pipe
HOLLOW SECTIONS & STRUCTURAL STEEL
Both square and rectangular hollow section and other structural steel are being supplied by us too.
• Square Hollow Section
• Rectangular Hollow Section
• Channel
• Flat Bar
• Angle Bar
• Beams
SPECIAL STEEL
• Alloy Steel Plate
• Abrasive Resistance Plate
• Alloy Steel Shaft
• AISI 4140 Round Bar / 709 Shaft (EN19)
• AISI 4340 Round Bar / 705 Shaft (EN24)
For further enquiries and availability, please do not hesitate to contact us.
All enquiries and orders will be processed and responded in the shortest time.